Ledger
Table of Contents
About Ledger
Since 2014, we have sold more than 4 million hardware devices in 160 countries. Our hardware devices keep your private keys offline, and hence secure your digital assets. We have been known over these past seven years as your trusted, connected safe.

And with the growth of services within Ledger Live, we are gradually becoming the most secure platform for anyone to experience Web3.
Ledger is one of the market leaders for hardware wallets. You can buy, exchange and grow/stake your crypto securely with a Ledger hardware wallet, combined with the Ledger Live app.
Notable products from Ledger are:
Ledger Nano S Plus [Launched on 5 Apr 2022]

DeFi friendly
designed with NFT collectors' needs in mind
manage 5500+ digital assets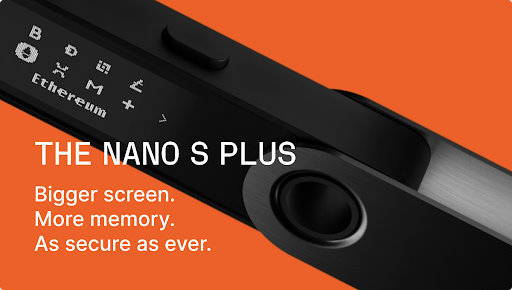 For a comparison of features, visit this page.
Key metrics
secures 20% of the world's crypto assets on more than 5 million Ledgers [Jul 2022]
Notable events
integration of FTX services into the 'Swap' section of your Ledger Live app [Jun 2022]

Combine low fees, self-custody and security when swapping your crypto

users can now swap 120+ digital assets with low fees, self-custody and world-class security. It's a world first.
Why Use A Hardware Wallet?
Ledger started a new series called "How I Got Hacked" on their Youtube channel which shares stories of the mistakes hack victims made.
Here is episode 1:
Ledger Live
Buy, exchange, grow your crypto - and more. All in one app. Manage 5,500+ coins and tokens.
Ledger Live is a Web3 wallet that complements the Ledger hardware wallet. Some features include:
Buy crypto
Swap crypto
Access DeFi apps and services
Manage NFTs
Check crypto market prices
Pay using your crypto
NFTs in Ledger Live
Users will be able to view, send, and receive NFTs in Ledger Live beginning in December 2021, with transparent transactional signing and full ownership of their NFTs. As Ledger strengthens its position in the NFT space, it plans to integrate Rarible, a premier NFT marketplace, launching in Ledger Live's Discover tab in January 2022.
Ledger Recover
Ledger Recover is an ID-based key recovery service that provides a backup for your Secret Recovery Phrase.
Check out the Ledger Recover whitepaper on Github for detailed information of how this service operates.