Websites
DeFi
Defi Llama
Defi Llama is a resource for DeFi:
Hacks
rekt.news
List of crypto exploits and hacks: https://rekt.news/leaderboard/
ICO
ICO Drops
ICO Drops features:
Calendar of active and upcoming ICO & IEO
Learn
Cryptopedia by Gemini
Coinbase Earn
CoinMarketCap
Subscribe to the CoinMarketCap YouTube Channel which livestreams and covers topics like the Metaverse, Web 3.0, Crypto Cities, The Future of Crypto etc.
CoinMarketCap has this interesting feature that allows one to explore the top currencies at different points in history (as far back as 2013). Check it out Historical Snapshots.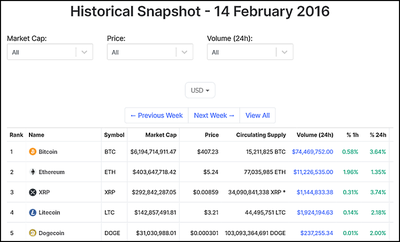 Market Sentiment and Research
cer.live | Crypto exchanges ranked by security
cer.live provides an objective security rating compiled by a team of independent security specialists who analyzed key security indicators of 300+ exchanges. Exchanges Rating is integrated into CoinGecko Trust Score.
List of platforms rated AAA as of August 2022 are:
Whitebit
Cryptology
Binance
Binance US
Huobi
CoinFlex
CertiK
CertiK is a security-focused ranking platform to analyze and monitor blockchain protocols and DeFi projects. CertiK does not give any "certifications" or "passes" to projects.
CoinGecko
The mobile app is useful for setting alerts for price targets of cryptocurrencies
CoinMarketCap
CoinMarketCap features:
Total market cap of crypto
Ranking of cryptocurrencies
Ranking of exchanges
Create watchlists
Learn and participate in airdrops
Receive 20 bonus diamonds after you collect your first 100 diamonds, when you sign up with CoinMarketCap using this referral link or referral code: 8WE5BALG
You can spend Diamonds at the Diamonds rewards store on a variety of goodies, including new profile avatars, mystery boxes and NFTs from partners including Enjin and TopGoal. You can also take part in lucky draws!
Crypto Fear & Greed Index
Bitcoin and major altcoins Crypto Fear & Greed Index
Factors affecting the index:
Volatility (25 %)
Market Momentum/Volume (25%)
Social Media (15%)
Surveys (15%) currently paused
Dominance (10%)
Trends (10%)
CryptoQuant.com
CryptoQuant provides blockchain analysis.
stakingrewards.com
Staking Rewards is the leading data provider for staking and crypto-growth tools. You can use it to compare the staking rewards from various platforms.
WhaleStats
We track the 1000 largest Ethereum wallets (the "whales") - after excluding known exchange and project wallets - worth an average of $205,240,840, and have an average of 40,205 ETH, 31 tokens, and 1 NFT.
WhaleStats provides analysis of the top 1000 ETH wallets
withdrawalfees.com
withdrawalfees.com compares withdrawal fees of tokens amongst cryptocurrency exchanges.
News
Fintech News Singapore
chaindebrief
Singapore based Chain Debrief offers crypto guides, news, analyses, and opinion pieces.
Scams
CryptoScamDB
CryptoScamDB's open-source dataset tracks malicious URLs and their associated addresses to make this entire ecosystem safer for you. It is designed to keep track of malicious URLs and their associated addresses that have the intent of deceiving people for financial gains.

Each day, new reports are gathered, analyzed, and added to our quickly growing dataset containing more than 6,000 entries. Various companies and projects use these entries to shut down scams, prevent people from visiting phishing websites, track known malicious operators, and ultimately protect users across the cryptocurrency ecosystem.
Technical Analysis
OSL YouTube Channel
OSL is an Asia-based digital asset brokerage that provides its global counterpart network with a suite of institutional trading solutions.
OSL YouTube is their official YouTube channel. The "Trader View" series of videos provide cryptocurrency technical analysis.
Coinglass (formerly Bybt.com)
Coinglass is a cryptocurrency futures trading & information platform, where you can find the Bitcoin Liquidations, Bitcoin open interest, Grayscale Bitcoin Trust,Bitcoin longs vs shorts ratio and actively compare funding rates for crypto futures.
Tools
dailydefi.org: Impermanent Loss Calculator
This calculator uses Uniswap's constant product formula to determine impermanent loss.
VVS.Finance is also using constant product formula
Website widgets
CoinGecko

webpage is slow and abit frustrating to use.