Cake DeFi: Happy Bitcoin Pizza Day Campaign
win one year of free pizza!

Table of Contents
Cake DeFi: Happy Bitcoin Pizza Day Campaign
Official campaign page: https://app.cakedefi.com/bitcoin-pizza-day
BTC price prediction
Background: Laszlo Hanyecz bought two pizzas on the 22 May 2010 for 10,000 BTC. That is worth around $280 million today!
Just predict the Bitcoin price correctly, and you will have the chance to win $5,500 worth of Bitcoin.
DFI price prediction
Win 1-month of free cakeELITE membership if you predict DFI price correctly.
Notes
Sharing my entries as of 11 May 2023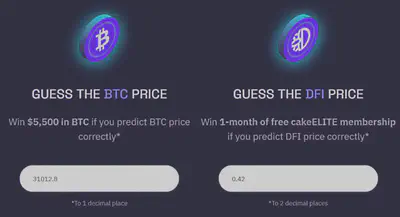 Notes:
winning price point is determined on 7 Jun 2023, 2355 hours from CoinMarketCap
only users who have completed KYC level 1 or above can join the campaign and win the prizes.
you can resubmit your predictions up till the end of the Promotion Period (29 May 2023, 1600 hours), so there is ample time to sign up for an account with Cake DeFi if you don't have one.