CoinList ICO: Ondo + Registration Quiz Answers
Decentralized Investment Banking

ICO Registration Deadline:
9 May 2022 at 12:00 UTC (9 May 2022 at 20:00 in Singapore)
There is only one option for this sale. The token sale will be on:
12 May 2022 at 17:00 UTC (13 May 2022 at 01:00 in Singapore)
If you do not have an account yet, visit our
CoinList review
to learn more about this platform and
sign-up with a referral code to receive benefits
.
Table of Contents
About Ondo
Ondo Finance is an open and decentralized investment bank. Ondo's core business is to service and connect various stakeholders in the emerging DeFi ecosystem — including DAOs, institutional and retail investors.
Ondo is owned by Neptune Development Foundation, a Cayman Islands foundation company, and the ultimate parent company of Nami Industries Limited, the seller and distributor of ONDO tokens.
Visit the CoinList sales page for details on:
ecosystem
early investors
roadmap
tokenomics
Investors
Ondo announced that it has raised a $20 million Series A round [Apr 2022]

co-led by Pantera alongside Founders Fund.
Coinbase Ventures, GoldenTree, Wintermute, Steel Perlot, Tiger Global and Flow Traders participated in the round as new strategic investors.

Seed round [2021]

$4 million led by Pantera Capital
On 26 May 2022, I came across the following statement by Suss (an admin) in the Ondo telegram channel:
"We sold <13% of tokens to private investors across the Seed and Series A rounds. Both were equity rounds so there was no explicit token price, but the Series A was at an equity valuation of $200 million."

"Team, Seed, and Series A tokens all have a 1 year initial lock followed by an unlock over the subsequent 24 months (3 years total)."

"CoinList Tranche 1 ($0.03): 1% of supply @ $0.03/token – 1y lock + 18mo release – max $500 per person"

"CoinList Tranche 2 ($0.055): 4% of supply @ $0.055/token – 1y lock + 6mo release – max $2,000 per person"
Team
Ondo was founded by two alums of Goldman Sachs' digital assets team. Current CEO [Apr 2022] is co-founder Nathan Allman.
Observations on the Ondo ICO
The single sale option has a long lock-up period (12-month lock-up from June 1, 2022) followed by a 6-month release period. So punters looking for a quick flip would probably like to give this ICO a miss.
There is also a global lockup that can be released by DAO vote
An additional 2% of supply may be unlocked during the sale period at the discretion of Ondo.
Access to a private option at a price of $0.03 will be given to long term supporters of Ondo as well as CoinList users with a high threshold of Karma points. This option does not affect the number of tokens available to other participants through the main token sale.
following groups of users may receive prioritized access:

Existing Ondo community members (provided by the Ondo team)
CoinList users who have demonstrated a strong track record of multiple value-add activities to networks including: validators, miners, stakers, active traders, liquidity providers, hackathon participants, and early token sale participants (2020 and earlier)

participants need to provide an external, non-custodial, ERC-20 wallet address to receive the ONDO tokens
The last point mentioned is something new in the CoinList ICOs I have participated in so far. See screenshot of registration page below. I entered my MetaMask wallet address for this.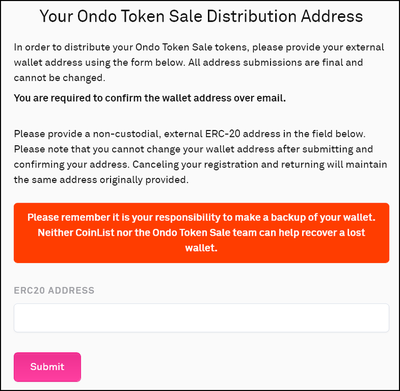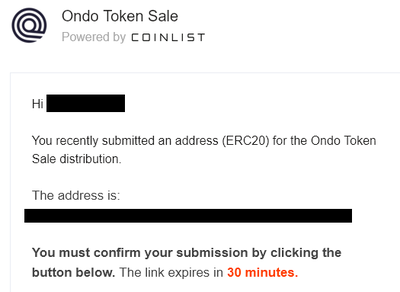 General notes on participating in CoinList ICOs
CAPTCHA after logging into CoinList on sale date
I once logged into CoinList about an hour prior to an ICO sale and left the countdown page idle.
When I went back to the browser tab after the sale started to check my queue number, I realised I had been timed-out because I did not complete a second CAPTCHA that appeared sometime during the countdown, and thus I did not manage to get a decent queue number.
Remember to check back on the browser tab a few minutes prior to the sale to confirm everything is fine.
Karma required for priority queue
[Mar 2022] In the last 5 token sales, many registrants with a CoinList Karma score of approximately 2,000 or greater were invited to the priority queue for CoinList token sales. The priority queue is an invite-only queue that is significantly shorter than the main token sale queue and runs in parallel to the main queue.
CoinList shared in an April 2022 email newsletter that Priority Queue users are up to 40x more likely to get a spot in token sales.
Odds of getting allocated is very very very low
CoinList ICOs are very popular. The odds of staying up late (if you are in Singapore) to wait for the sale and ending up empty handed is awfully high.
Past ICO results
Visit this post to see how some previous CoinList ICOs are doing after they started trading on various exchange platforms.
Walk-through of a successful ICO allocation
Using the Axelar ICO as an example, visit this post to understand how the queuing and purchase flow works on the actual sale day.
Registration quiz answers
I have registered for the ICO and sharing the registration quiz answers in this blog post.
How many tokens are for sale in the Ondo token sale?
400,000,000
What is the sale mechanism for the Ondo sale?
Users in the waiting room will be given a random spot in the queue when the sale starts. Users who arrive after the sale starts will be placed behind those in the waiting room
What currencies are accepted for payment in the sale?
BTC, ETH, USDC, USDT, SOL, ALGO
What is the price per token and max purchase for the sale?
$0.055 per token, $2,000.00 limit
Update: the allowable purchase amount was revised to $100 to $20,000
What will happen if someone submits a purchase but doesn't complete it?
The user's purchase may be cancelled and the user may be banned from future CoinList sales
Where will I be able to participate in the token sale?
CoinList.co
Which is the only Telegram account for official CoinList announcements?
coinlistofficialchannel
What happens to a user who uses bots or abuses the Queue-It system?
The user's account will be terminated and all purchases will be cancelled
Purchase details
If you received an allocation, your purchase will be confirmed when your deposit clears. If your deposit doesn't clear immediately, that's fine – you have until May 18, 23:59 UTC to finalize your purchase.
Please note that if you do not complete your purchase before May 18, 23:59 UTC, your purchase may be cancelled entirely and you may be banned from all future CoinList sales.
If you cancel your purchase after all allocations are sold, you may be banned from all future CoinList sales.
When will tokens be received?
Please note that tokens sold in the Ondo token sale have a 12-month lock-up from June 1, 2022 with a 6-month release period thereafter (plus a global lockup that can be released by DAO vote).
Resources