KuCoin: Celebrate KCS Super Week + Crypto Quiz Answers
Get Lottery Tickets to Win 21,000 KCS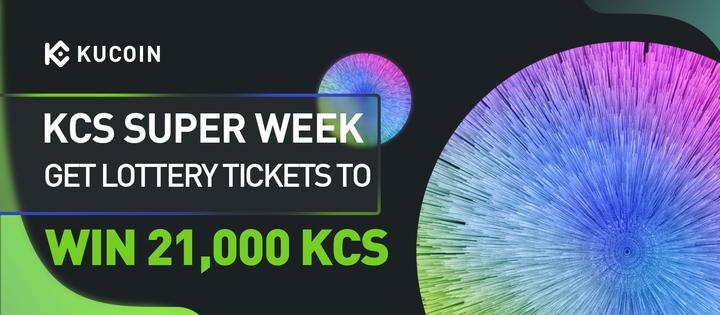 [4 Apr 2022]: The raffle draw for the main event has been conducted. You can view the replay on Youtube.
How to check if you won a prize in the 'KCS Super Week Raffle'?
Option 1: KuCoin news page
Option 2: Prize checker on MojitoSwap

Visit our MojitoSwap page to get a referral when you join MojitoSwap and earn bonuses
You have to connect to MojitoSwap using a wallet (e.g. MetaMask) before it allows you to enter a raffle number to check against.
According to my test, if the winning number is '65117', you can enter either '65117' or '065117' into the prize checker.
Table of Contents
Introduction
I hardly write about promotions running on the KuCoin platform. KuCoin has multiple campaigns running every single week, and these campaigns usually have side events as well. Most of the time, I have problems understanding the promotion mechanics and simply just give up.
As I have recently taken an interest in platform native tokens, I paid more attention to today's [29 March 2022] announcement:
KuCoin and the KCS Management Foundation jointly released the KCS Whitepaper
More information on the KCS whitepaper can be found at our article dedicated to KCS.
In celebration of the KCS whitepaper release, KuCoin is launching a week long celebration campaign.
Event Duration: 10:00:00, 03/29/2022 - 10:00:00, 04/03/2022 (UTC):
Side Event 1: KCC
Side Event 2: Margin
Side Event 3: Futures
Side Event 4: Trading Bot
Side Event 5: Community
Side Event 6: Mojito
(Main Event) Celebrate KCS Super Week: Get Lottery Tickets to Win 21,000 KCS
My key interest lies in the main event with the attractive prizes. Basically, users have to go to the event page and answer crypto related quiz questions to get a lottery ticket to stand a chance to win something from the prize pool.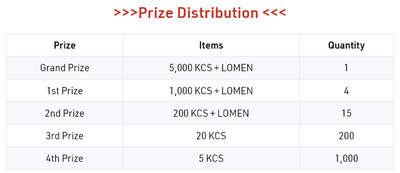 The grand prize is "5,000 KCS + LOMEN". 5000 KCS is worth around USD$107,000 as of 29 March 2022. A LOMEN is a NFT. The fourth prize isn't too shabby at around USD$107.
Notes:
The Lottery tickets are issued in a limited amount every day. First come, first served.

[Update 1 Apr 2022]: Previously the promotion mechanics stated that the number of lottery tickets was capped at 120k. This statement has since been removed and I am not sure if the cap is still there.

The lottery tickets are FREE, but you need to stake 1 KCS for each lottery ticket.

Staked KCS will be automatically returned to your Main Account within 7 workdays after the end of the event.

Most quiz questions are really simple.

it doesn't matter if you get the answer incorrect, there are no penalties and you can just simply retry.
KuCoin's objective is for users to gain knowledge from the questions.

Each user can get up to 100 lottery tickets.

if you accumulate 100 lottery tickets, the chances of winning the grand prize is 0.08333%. (not sure if still applicable as the total cap on lottery tickets has become unknown)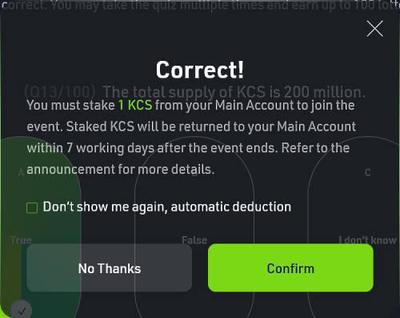 Team up to get more lottery tickets (use my UID: 66105722)
The campaign page says that users can get more lottery tickets by forming teams.
Steps:
User A sends their UID to user B, inviting them to form a team.
User B binds the referral code (i.e., user A's UID) through the event page.
The team is created, providing both user A and user B with a lottery ticket.
Users can share their UID to create teams with multiple friends. The more teams you create, the more lottery tickets you will earn. There are no limits to the amount of teams you can create.
A single user can only bind a referral code (i.e., other user's UID) once.
To create a team, both users in the team must participate in the quiz and stake 1 KCS.
Join the KCS official community to form a team. Not sure how this works exactly.
My KuCoin UID is: 66105722. Do consider forming a team with me :)
Do act fast as there are only limited lottery tickets up for grabs daily.
Join KuCoin Community to get chance for 5 more lottery tickets
KCS Lottery Giveaway: KuCoin Community Exclusive!

600 qualified users will be selected randomly to win 5 lottery tickets each!
Steps:
Be a member of KuCoin #Discord Group (https://discord.gg/tradingbot)
Fill out https://forms.gle/LG14oQYmM3xJUWxR6
Quiz Questions + Answers
Noting down the quiz questions I answered for future reference. As mentioned, most questions are really simple and you don't need to reference this list. You can simply retry the same question if you got the answer incorrect.
(Q1/100) When was the birth of Bitcoin?
(Q2/100) When was KCS ecosystem established?
(Q3/100) More than 90% of the world's population has never been exposed to cryptocurrencies or the associated technology.
(Q4/100) Decentralized storage allows every byte of information to be executed and recorded while Web 1.0 redefines the relationship between productivity and production.
(Q7/100) For the next phase of the industry 's development, the KCS team would like to further capitalize on the key advantages to build a self-circulating ecosystem based on KCS.
(Q9/100) The crypto world is developing rapidly which will increase the threshold for new users to enter the crypto world. However, there still remains a huge "disconnection" between the crypto world and the traditional world.
(Q10/100) What is the total supply of KCS?
(Q13/100) The total supply of KCS is 200 million
(Q14/100) Through the process of continuous burning, how many KCS supply will eventually stabilize?
(Q17/100) As of January 2022, how many cumulative registered users of KuCoin trading platform?
(Q19/100) The number of effective addresses holding KCS tokens are in the tens of thousands.
(Q21/100) Who initiated and developed the KCC chain?

Ans: The core members of the KCS and KuCoin development community

(Q23/100) KCC will focus on connecting the centralized and the decentralize.
(Q24/100) KCC will focus on building a decentralized autonomous community
(Q26/100) The development of KCC will be split into the following part.

Ans: KCC 1.0, KCC 2.0 and KCC 3.0

(Q27/100) KCC 1.0 is built on the Ethereum source code.
(Q30/100) When was KCC1.0 mainnet officially launched?
(Q39/100) In the implementation of Ethereum, LevelDB is ONLY used to support MPT.

Ans: False (LevelDB is an open-source on-disk key-value store)

(Q42/100) KCC will also gradually move from the era of EVM-compatibility 1.0 and 2.0 towards the new technology of a cross-chain 3.0 ecosystem.
(Q52/100) Based on "From Geeks to Mass Adoption" vision, we established the _____ Foundation and formed the GoDAO community.
(Q56/100) KCS Management Foundation will support blockchain innovation through grants and various means.
(Q61/100) _____ will be fully responsible for KCS' future development, decision-making, investment, uses, etc.

Ans: KCS Management Foundation

(Q65/100) Of the KCS held by early investors, 7 million will be donated to the KCS Management Foundation and released linearly over 5 years, and 18 million will be held by early investors and released linearly over 5 years.
(Q67/100) Of the KCS tokens held by the founding team, 25 million will be donated to the KCS Management Foundation and linearly released over 5 years.
(Q69/100) A good ecosystem cannot function without everyone's trust and participation.
(Q73/100) To attract more users into the KCS community and ecosystem during the cold start period, the founding team, the advisors and the angel investors have decided to jointly allocate 10 million KCS for various promotional activities during the cold start period, as direct rewards for early investors.
(Q75/100) The 65 million KCS held by the founders and the team were locked for 4 years. During the lock-up period, the holders could not transfer or sell their KCS.
(Q77/100) What is the founder/team allocation percentage of the Initial KCS Token Distribution?
(Q80/100) Is the KCS token distribution for early participant immediate release?
(Q81/100) Is the KCS token distribution for founder/team allocation lock-up for 4 years?
(Q82/100) What are the benefits of holding KCS at KuCoin?

Ans: A and B (A: Enjoy fee discount with enable "KCS Pay Fees" function; B: Get KCS bonus & Hold more to raise VIP level)

(Q83/100) KCS will be more or less in the Future
(Q91/100) Why KCS will be less in the Future?

Ans: KCS has its Deflationary Mechanism

(Q93/100) Any statement about future events is based solely on KCS's analysis of the issues described in this White Paper.
(Q97/100) KuCoin has built an ecosystem to accelerate the arrival of the Web 3.0 era.
(Q98/100) The spectrum of diversified application scenarios based on the KCS ecosystem lowers the threshold for ordinary users to enter the crypto world.
Draw date
All winning tickets are drawn through the KCC smart contract. On April 04, 2022 10:00:00 (UTC), the draw will be streamed live via YouTube. After the livestream, the list of winners will be published via announcement.