Success in the Axelar ICO on CoinList!
Walking through the queuing and purchase experience

August 2022 update from CoinList:
To account for any unexpected network complications related to the Ethereum Merge on September 15, 2022, the distribution date for Axelar has been postponed from September 14, 2022 to on or around September 27, 2022.
In consideration of the delayed distributions, the initial distribution will unlock 5 months' worth of tokens.
Intended for staking on CoinList to be available on the day of the AXL token distribution. Information on how to opt in to such staking will be provided closer to the distribution date.
Eligible users will receive the native Axelar token instead of the ERC-20 token, which will allow users to immediately stake and use the token on-chain.
If you do not have an account yet, visit our
CoinList review
to learn more about this platform and
sign-up with a referral code to receive benefits
.
Table of Contents
Introduction
After a year of continuous queuing attempts since my last success at the Mina ICO, I finally managed to get an allocation in the Axelar ICO on CoinList.
I wasn't on the priority list for which half the ICO allocation was reserved for, and given the odds of getting a decent queue number is awfully low for all CoinList ICOs, I was very lucky to have land a queue number of '13510'.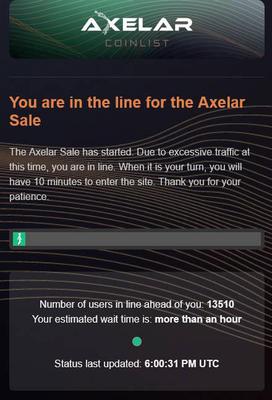 In this post, I will share about my experience of the queuing and purchase process that I documented down.
Timeline
1. Entering waiting room prior to sale
The sale was at 2:00 a.m. Singapore time, and at 1:50 a.m., I logged into CoinList via my desktop web browser, and entered the waiting room using the link sent to my email.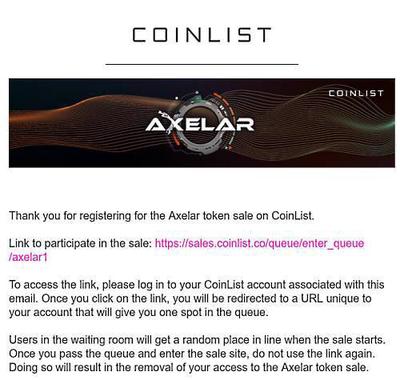 2. Queueing
At 2:00 a.m., the sale started and I received my queue number of '13510'. The queue counter showing the number of participants in front of me did not move initially, but started ticking downwards after a few minutes.
On-screen message while queueing:
The Axelar team allocated 50,000,000 tokens to the sale. Approximately 30,000 people from this queue (and 30,000 from the Priority Queue) are able to receive an allocation.
I waited slightly over an hour for my turn, and it was around 3:09 a.m. Singapore time by then. I wasn't expecting such a long wait.
Throughout the wait, I didn't leave the screen idle for an extended period of time as I was worried that I would timeout or that would be a CAPTCHA popping up for me to complete etc. But my worries were all unfounded.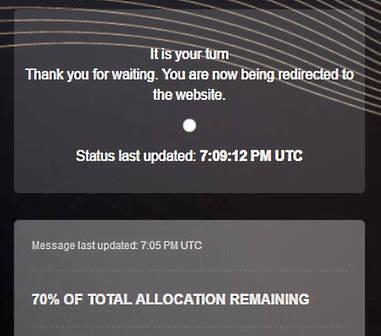 3. CoinList website timing out when it was finally my turn
Things started getting stressful from this point onwards. I was expecting to be shown the purchase page quickly, but was shown this intermediate page instead.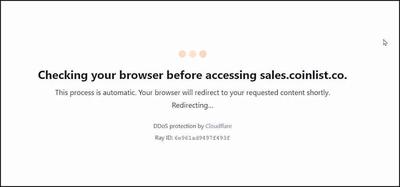 It remained on screen for another 3 minutes, and redirected to an error page after that.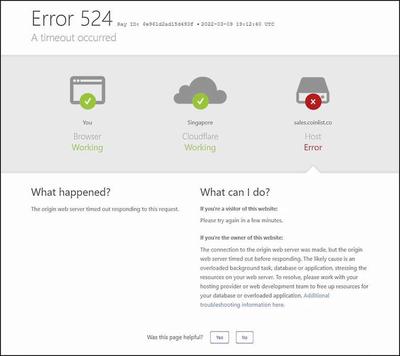 I am well aware this was probably caused by server overload due to the large number of participants using the CoinList website at the same time. I vaguely remember experiencing the same thing during the Mina ICO sale.
But still, panic started to set in and alarm bells were ringing. Did I stay up till 3 a.m. for nothing? I frantically went to Reddit and Twitter to check if I was the only one with issues, but didn't find anything useful.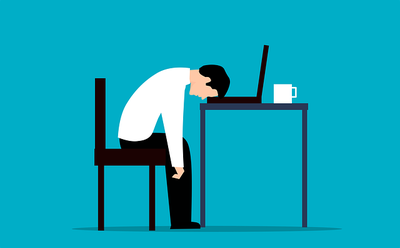 The solution was to refresh the page on the browser, and repeat the process for as long as the server was timing out.
This continued for another 10+ minutes and finally I was shown the purchase page at 3:21 a.m. Singapore time.
4. Submission of purchase request
This is the purchase page for the Axelar ICO on CoinList.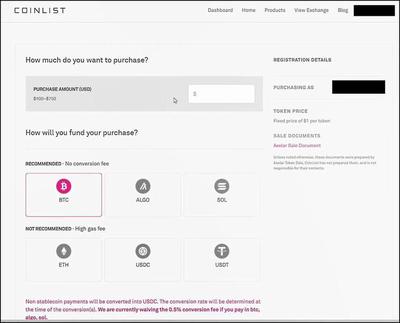 Participants have 10 minutes to complete their purchase before their queue access expires.
Also, if you would like to purchase in multiple currencies, you have to make separate additional purchases. Not sure how this works in detail.
I opted for the max of 750 USD for my purchase request and selected to transact in USDC.
I only had about 5 USDC in my wallet, which was insufficient to complete the purchase but there was nothing to worry about. CoinList gives participants a few days to complete the purchase.
USDC is not recommended due to high gas fees, but my plan was to transfer USDC over from my Hodlnaut account which gives me a FREE withdrawal every month.
The recommended options from CoinList were BTC, ALGO and SOL. CoinList was offering to convert them to USDC with zero conversion fees for the ICO.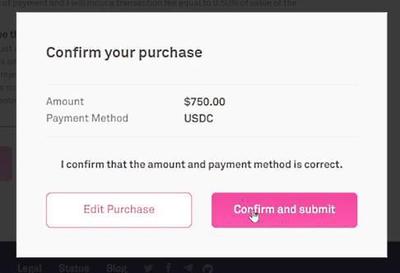 After submitting the purchase confirmation, participants will be shown funding instructions. In my case, it was a wallet address and QR code for me to deposit USDC. I noticed it was identical to the USDC deposit address for my CoinList account.
At this point, the outstanding task was to fund my account with enough USDC to complete the purchase.
I planned to do this the following morning as it was already 3:23 a.m. so I shut down and went to bed. I strongly suggest to exit the CoinList website once you are done to give others their turn to complete their purchase. They are probably facing the same timeout issues when trying to load the purchase page.
5. Funding my account with USDC to complete purchase
The next morning, I promptly transferred sufficient USDC into my CoinList account. The USDC were received by CoinList at 10:43 a.m. Singapore time.
I logged in from my desktop web browser and on the CoinList Dashboard, there was a button to complete my purchase.

Unfortunately, pressing the button did nothing at all. I spammed the button multiple times but still nothing. It just brought me back to the same page.
I went to Twitter to search if anyone had any complaints but found nothing.
I decided to wait and see what happens. An hour passed and I received an email from CoinList that my purchase was completed successfully.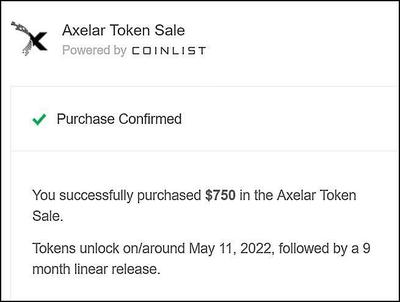 In essence, once your account is adequately funded, no further action is required on your part. CoinList will automatically deduct the outstanding amount from your account balance after awhile.
6. Received email from CoinList the following day asking to complete purchase again. Why???
I received an email on 11 March 2022 titled "[URGENT] Complete Your Axelar Sale Purchase". Not sure why I was receiving such an email as I believed the purchase has already been completed successfully the previous day.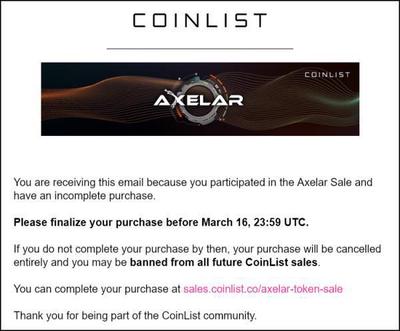 I logged into CoinList to double check and indeed, the system shows the purchase has already been completed successfully. It should be safe to ignore this email.