Crypto.com Visa Card Usage Experience (Singapore)
Recording down usage experience of the Crypto.com Visa Card, and other information gathered from the net and readers.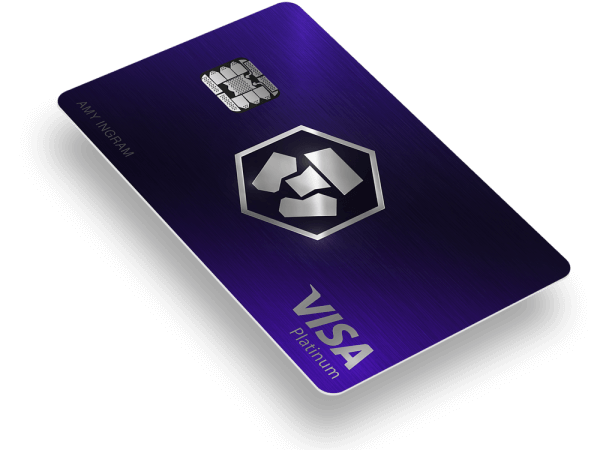 Table of Contents
Table of Contents
My Crypto.com Visa Card
I recently (Dec 2021) received my Crypto.com Royal Indigo Visa Card and will be recording my usage experience in this article.
Another source of information for this article is the official Facebook group: Crypto.com Singapore Community which Crypto.com uses to communicate latest news and users in Singapore can use to share experiences and ask questions.
To learn more about my card upgrading experience, refer to this article: "Upgrading My Crypto.com Visa Card".
Funding card wallet with SGD
As of February 2022, Crypto.‌com Visa Card users in Singapore enjoy local processing for top-ups. Users are no longer charged international transaction fees by the issuing bank when using credit/debit card for Card top-ups.
Please note that a 1% administrative fee will still be charged by Crypto.com when you top up your Crypto.‌com Visa Card using a credit card. No fees will be levied when you top up using a debit card.
Also, many banks charge a cash advance fee for crypto related transactions using a credit card. Consider using multi-currency debit cards such as Revolut, Singlife, Bigpay, Wise, or Amaze to avoid such additional fees. Learn more below.
Convert USDC
I typically just sell my USDC to fund my card wallet with SGD for convenience sake, and it probably isn't the optimal way.
Via BigPay (Fintech arm of airline AirAsia)
Tested in January 2022: able to fund Singapore dollars (SGD) into Crypto.com Visa Card with no additional charges.
Tip
: Visit SgReferralPromo.com to learn more about referral benefits for
BigPay
.
Via DBS Multi-currency Debit Card
[Unverified story] Someone shared he was charged 2.8% despite using a multi-currency DBS debit card to top up.
Via Grab
Read on internet that Grab charges 1% DCC fee as they are not a multi-currency debit card.
Via OCBC Debit Card
Not my experience, but came across someone sharing that he was charged $14 for topping up $500 with his OCBC debit card in January 2022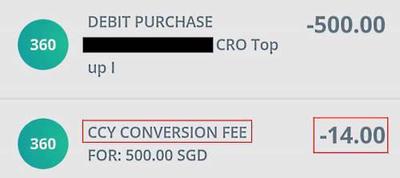 A netizen helped to explain the reason:
"The merchant that is used to top up the card (i.e Crypto.com Visa Card) is located overseas. And banks tend to charge an extra fee on their end for this even though it's in SGD. It makes no sense to me but this is because of the banks, not Crypto.com."
As mentioned previously, this should no longer be an issue from February 2022, as top up processing has shifted to be processed locally in Singapore.
Via Revolut (receive additional cashback)
I came across these convoluted approaches online that involve Revolut and reportedly give users:
extra 1.7% cashback benefits:

"UOB Absolute Cashback Card -> GrabPay MasterCard -> Revolut -> Crypto.com Visa card wallet".

extra 1.5% cashback benefits:

"American Express True Cashback Card -> GrabPay MasterCard -> Revolut -> Crypto.com Visa card wallet".
Tip: Visit SgReferralPromo.com to learn more about referral benefits for:
Via Singlife
[Jan 2022] Can top up with no extra charges.
Via Wise
Top up Wise account (via PayNow with no fees) -> Transfer from Wise to Crypto Card.
Adding the card to e-wallets
Apple Pay
[Jan 2022] Not possible according to info shared on the Internet
GPay (Google Pay)
[02 Jan 2022]: Cannot add card. Error message:
"This card can't be set up to pay in stores. This feature isn't supported by your bank for this card yet. You can try adding another card for in-store use."
Grab Wallet
[02 Jan 2022]: Cannot add card. Error message:
"Sorry, we couldn't add your card. For your security, please add a card that requires a on-time password (OTP) for verification."
Workaround
A workaround shared by the community that I tested to be working in January 2022 was to:
Add the Crypto.com Visa card to PayPal
Connect your PayPal account to the Grab Wallet.
Paypal
No problems adding. Tried to spend on Netflix but was unsuccessful.
Merchants where transactions are declined
AirAsia Food [Jan 2022]: I suspect the payment processing is conducted in Malaysia; international usage of cards belonging to Singapore based users is currently unsupported.
Google Ads [Jan 2022]: error message below was shown

Unable to complete transaction: prepaid cards can't be used

iHerb [May 2022]

Choose SGD as currency but does not work. Probably because it is based in USA.

Newegg.com [Apr 2022]
Merchants with no cashback
The list of "Merchants and markets excluded from the Crypto.com Visa Card's CRO Rewards Program" can be found here.
Transactions where no cashback was received:
Keppel Electric
Road tax payment (LTA OneMotoring)
SAM Machine

bought a single stamp (S$0.30) from SingPost using PayWave.

Senoko Energy
Spending in Singapore with cashback awarded
Netflix
[24 Dec 2021]: I added my card as the default payment method without any issues. It is now pending the first payment in January 2022 and I hope to receive my 100% CRO cashback without any hiccups.
Update: received my Netflix 100% cashback automatically in Jan 2022.
Under the "Card" tab, I selected the top right icon (i.e card icon) and under "Card Settings" section, I enabled "Enable International Usage".
Not sure if this step makes any difference though because from what I understand, Crypto.com cards for Singapore users currently cannot be used for international transactions.
When I added my card details into Netflix, there was a hold placed on a small amount of my card wallet balance. This resulted in me earning 1.249 CRO in cashback. It was recorded as "Card Rebate: Netflix" within the Crypto.com App. This was subsequently reversed the next day under another transaction "Card Rebate Reversal: Netflix".
Spotify
[26 Dec 2021]: I tried using the card on Spotify and it failed. This is a well known issue for Singapore users but I still wanted to test it out. The current workaround is to pay with some other card and submit the proofs to Crypto.com customer service to get reimbursed for the 100% CRO cashback.

I read that some people linked the Crypto.com Visa card into PayPal and used it to pay for Spotify. I tried this but it did not work for me either.

The Rest (pretty long list)
Sorted alphabetically:
AirAsia App

ordered food from mobile app [Apr 2022]

CardUp [Mar 2022]:
Cart mobile app [Jan 2022]:

Over 20,000 products to shop for from Cold Storage, CS Fresh, Giant, Guardian and popular exclusive brands such as Meadows

Changi Mobile (billed as Changi RECOMMENDS) [Jan 2022]: online payment
Chope.co [Jan 2022]: purchased deal via mobile app.
Dominos Pizza: Online order
Famous Amos [Dec 2021]: PayWave in store
Fave app:

purchased eCard from Fave app. Added Crypto.com card as payment method in app. [Apr 2022]
linked the card into the FavePay CardLink feature, which allows users to earn cashback when shopping at participating merchants with a physical card. [Apr 2022]

Foodpanda [Jan 2022]
Giving.sg:

Do good, earn CRO cashback, and get income tax reduction all at once.

HipVan

online order for furniture [Apr 2022]

Khoo Teck Puat Hospital:

computerized tomography (CT) scan [Mar 2022]
payments for outpatient consultation and medication at pharmacy. [Feb 2022]
payment via HealthHub mobile app [Apr 2022]

Krisshop.com [Mar 2022]:

omni-channel retailer with both inflight and online presence operated by Singapore Airlines
great deals to be found at times during promotions.
KrisShop is available on both KrisShop.com and Kris+ App

promotions may differ on KrisShop.com and Kris+. Refer to respective platform for more details.

Compared between using Amex KrisFlyer Card (2 miles per $1) and Crypto.com Visa Card (3% cashback for Royal Indigo Tier) for payment, and decided on the Crypto.com Visa Card.

Läderach [Dec 2021]: Swiss chocolates. PayWave in store.
Lazada.sg [Jun 2022]
Living Menu [Feb 2022]: food delivery startup for hawker food with flat delivery charge and same price as in-person purchase.
Marks & Spencer [Dec 2021]: PayWave in store
McDonald's:

PayWave at drive-through [Dec 2021]
stored card details in app and made mobile order for self-pickup [Apr 2022]

Mr DIY [Dec 2021]: PayWave in store
NHG Pharmacy [Jan 2022]: pharmacy inside polyclinic
NTU Development Office [Jan 2022]
NTUC FairPrice:

PayWave in store [Feb 2022]
Stored card details into Fairprice app and paid in physical store using Fairprice app. [Mar 2022]

Pickupp groupbuy platform [Dec 2021]
Pizza Hut [Mar 2022]: website order
Polyclinic [Jan 2022]
Popeyes Chicken [Dec 2021]: ordered and paid in the mobile app
Qoo10.sg [Dec 2021]
Shake Shack [Dec 2021]: PayWave in store
Shopback [May 2022]: payment in mobile app
Shopee.sg [May 2022]
Song Fa Bak Kut Teh [Dec 2021]: PayWave in store
Subway [Mar 2022]: PayWave in store
Swensens [Dec 2021]: PayWave in store
Uniqlo [Dec 2021]: Used successfully on Uniqlo online store. I made the Uniqlo purchase via ShopBack and received a 5% cashback from ShopBack too for the purchase!
TADA ride hailing [Apr 2022]
WeBuy [Jan 2022]: Groupbuy platform. Paid via mobile app.
WhatIF Foods [Apr 2022]
WhyQ [Apr 2022]
You Tiao Man [Dec 2021]: Used successfully at the online store.
Yummy Bros [Mar 2022]
Spending internationally with cashback
To be updated when I get to travel
Tips
Stacking Crypto.com Visa card CRO cashback with ShopBack
I tried adding the Crypto.com Visa card into ShopBack and it worked! So on top of getting CRO cashback, I can also receive additional cashback via ShopBack.
I affirmed this with my Uniqlo online purchase which was via ShopBack.
Things I need to find out about and update here
When I spend in SGD, does the platform convert from my other currency balances (e.g. USD) if my SGD balance is insufficient?
What happens if my card balance is insufficient for my Netflix monthly subscription fee when it is due?