Celsius Network: Get $150 in Bitcoin Promotion
CELSIUSCARES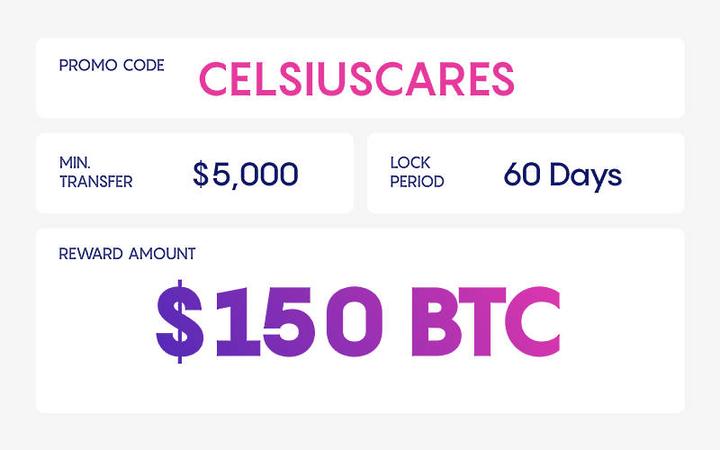 Validity period: until 6 December 2021
Table of Contents
'CELSIUSCARES' Promotion
Celsius Network is celebrating the Celsius Call Center grand opening with a new limited-time promo!
Transfer or buy in-app $5,000 or more of any supported coin(s) and get $150 in Bitcoin using the promo code: CELSIUSCARES. T&Cs apply.
Notes:
Valid for new and existing users.
Minimum holding periods apply.
This promo may not be available in some jurisdictions where limitations and regulations may apply.
How to apply promo codes to your Celsius Network account?
Learn how to apply promo codes:
Promo codes can only be applied from the mobile app and not the web platform.
Questions about the mechanics of the promo
Must the $5000 be a lump sum or multiple transactions in multiple assets are acceptable?
A user on Reddit reported that he was able to deposit in multiple assets across multiple transactions and managed to lock the promotion.
Source: New Promo Code CELSIUSCARES - lump sum or multiple coins/deposits are okay?
Must I complete the transfer of $5000 by 6 Dec 2021?
No. 6 Dec 2021 is the deadline to apply the promo code to your account. After that, you will have 30 days to fulfill the terms to deposit the $5000.
Basically, you can apply the promo code first and decide later whether you want to go ahead and deposit the $5000.
Source: The CelsiusCares promo code says it expires on Dec 5th. Does that mean it doesn't allow individuals to activate after Dec 5th, or it doesn't allow individuals to lock after Dec 5th?…