Tokenize Crypto Earn 11.11 Special Promotion: 111% Annual Yield for TKX
minimum staking of 100 TKX required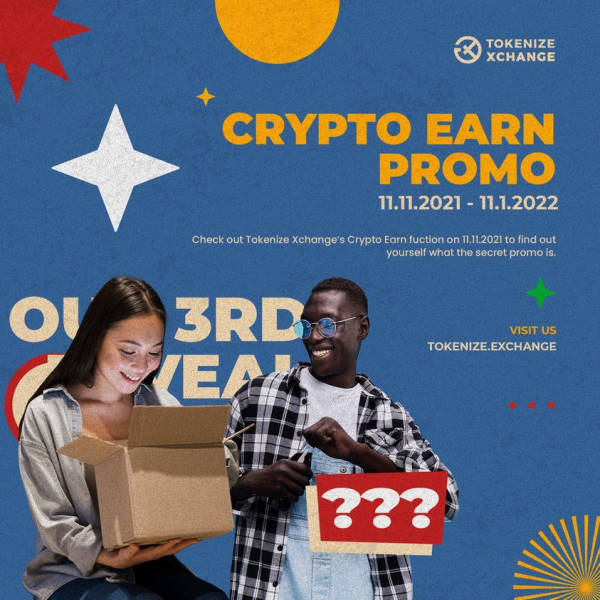 [12 Nov 2021] Clarification: the campaign is only 1 day (11 Nov 2021). The special interest rates are from 11th November, 2021 to 11th January, 2022.
[12 Jan 2022] Two months have since passed and I have just received 115.55823408 TKX back, giving me returns of ~15.558 TKX. The price of TKX has fallen from ~$11.60 to ~$7.70 though, which means I am firmly in negative territory. Would continue to HODL and stake for now and see if the price recovers.
Campaign period: 11 Nov 2021 only.
Special interest rates period: 11th November, 2021 to 11th January, 2022.

Tokenize is offering a special 'Crypto Earn' promotion rate for staking Tokenize Emblem (TKX). Get 111% annual yield when you stake at least 100 TKX. Promotional rate is for two months.
By my crude calculations:
111% / 12 months = 9.25% per month.
So for two months: 9.25% x 2 = 18.5%
If my understanding and calculations are correct, I will be receiving ~18.5% of my staked value after two months, which sounds like a really great deal!
Since I did not have 100 TKX in my account, I proceeded to buy TKX from the market to reach the minimum 100 TKX required.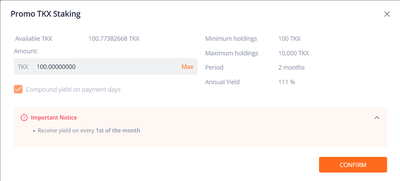 Risk analysis:
TKX is currently very near to it's all time high price ($12.04 on 9 Nov 2021).
Crypto market is very hot at the moment.
Should there be a major price correction in TKX within the next two months, I might be taking a loss even with the staking interest factored in.