Nexonomics 2.5x Referral Bonus and $100,000 Prize Pool Promotion
Unlock the Power of Your Crypto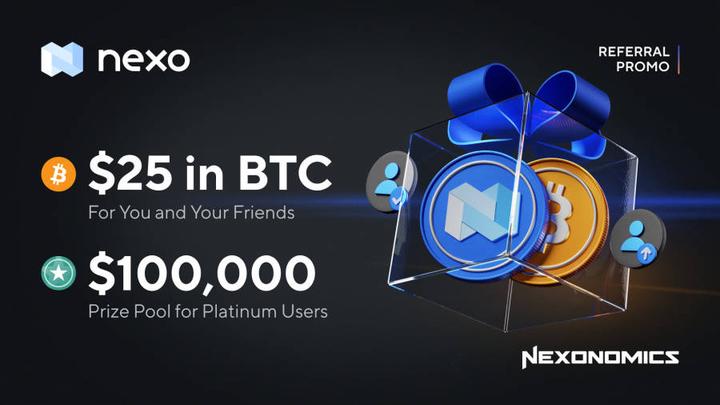 Campaign period: extended to 5 Jan 2022 at 14:00 UTC
Campaign period: till December 31, 2021 at 23:59 UTC
Nexonomics Referral Promotions
The Nexonomics initiative is a series of upgrades and features for the NEXO Token designed to drive its tokenomics, reinforce its utility, and boost its value in the digital economy.
2.5x Referral Bonus
Nexo is offering $25 in BTC – that's 2.5x the usual referral bonus.
Usual referral terms and conditions apply. Visit the Nexo platform page to learn more.
$100,000 Additional Prize Pool
A total of $100,000 in NEXO Tokens will be distributed among the participants with the most referrals.
The top 50 participants with the most referrals will receive NEXO Tokens (BTC for US citizens) of the values specified below:
Place 1-10: $5,000
Place 11-20: $2,000
Place 21-30: $1,500
Place 31-40: $1,000
Place 41-50: $500
Final winners will be announced at the beginning of February 2022.
Only 'Platinum Users' are eligible for the $100,000 prize pool.
You must stay within Nexo's Platinum Loyalty tier during these check dates:
16 November 2021
30 November 2021
15 December 2021
30 December 2021
Please note that the participants who join the competition after any of the above dates, must be in the Platinum tier for the rest of the check dates until the end of the promo.
How to Move to the Platinum Tier?
Just make sure at least 10% of your Portfolio Balance is made up of NEXO Tokens and you'll instantly jump to the Platinum Tier. Perks include:
Borrowing rates from just 6.9% APR.
Up to 8% earning interest on your crypto and up to 12% on stablecoins.
Up to 12% interest on your NEXO Tokens.
5 free crypto withdrawals per month.