Cake DeFi review and usage tips
Sign up with Cake DeFi and stand to receive Welcome Bonus of US$30 worth of DFI tokens.
Requirements:
Deposit at least US$50 of crypto assets into your Cake DeFi account. It doesn't matter which coin you use, as long as the minimum amount is at least US$50.
Next, allocate at least US$50 into Lending, Staking or Liquidity Mining. Minimum vesting period apply.

For Staking or Liquidity Mining product, you have to allocate the Staking or Liquidity Mining shares into the Freezer with minimum tenure of 1 month.
For Lending product, you need to enter a lending batch for at least 28 days.
After the funds have been allocated, the US$30 in DFI bonus will automatically be credited to your account. This bonus will be locked up for 180 days in the Freezer and automatically yields Staking returns during this time. Terms and Conditions apply.

Table of Contents
Company
The most transparent way to put your cryptocurrencies to work
Cake DeFi was founded in the 2019 by Dr. Julian Hosp and U-Zyn Chua. It is a Singapore-based blockchain and fintech company that empowers users to be in control of their finances by creating cash flow and harnessing the potentials of Decentralized Finance. It enables users to earn and generate rewards and returns on their cryptocurrency holdings.
Learn more about their performance in 2021 and road-map ahead: Road to Unicorn: Cake DeFi's 2021 Reflection and 2022 Outlook
On 7 June 2022, Cake DeFi celebrated it's 3rd birthday. Read this anniversary blog to learn about what milestones they have achieved.
Business Units
Birthday Research (BDR)
Birthday Research (BDR) is the Blockchain Research and Development (R&D) wing of Cake DeFi. It was named 'Birthday Research' as a nod to the 'Birthday Problem'.
Birthday Research will largely focus on two functions that align 100% with Cake's company goals: open source software contribution and new research-heavy product design and incubation.
What is the Birthday Problem?

In probability theory, the birthday problem asks for the probability that, in a set of n randomly chosen people, at least two will share a birthday. The birthday paradox is that, counterintuitively, the probability of a shared birthday exceeds 50% in a group of only 23 people.

See more on Wikipedia
Cake DeFi Ventures
Launched in Q1 2022, Cake DeFi Ventures invests in tech startups at all stages of development, with a preference towards Web3, Esports/Gaming and FinTech.
Corporate Social Responsibility (CSR)
Cake DeFi will partner SportCares to enable vulnerable individuals to experience and reap the benefits of sport by instilling confidence and elevating one's outlook on life [2022]
Key metrics
Cake DeFi team has 140+ active team members [Aug 2022]

Over half of them are based in Singapore

150,000+ customers [Jun 2021]
$230 mil USD were paid to customers as rewards in 2021
Notable Happenings
Over 2 million $DFI were frozen up for 5-10 years during Cake DeFi's 3rd-Anniversary Freezer Promo [Jun 2022]
Cake DeFi launches $100m venture unit [Mar 2022]

Cake DeFi Ventures will invest in gaming, Web3 and financial technology developers.
first investment is a US-based media startup, The Edge Of Company, Inc.

DeFiChain DEX Integration [Oct 2021]

integrated the DeFiChain Decentralized Exchange directly on Cake DeFi, which now processes swap transactions from other cryptocurrencies into DFI.
update reduced swap fees by almost 90%
Presence in Singapore
Cake DeFi is currently headquartered in Singapore.
Entity: Cake Pte Ltd (UEN: 201918368M)
Cake DeFi is a member of the Singapore FinTech Association's Web 3.0 subcommittee and an industry member of ACCESS' Virtual Asset Payments Group.
Office Grand Opening in November 2022:
Regulatory Compliance
Monetary Authority of Singapore (MAS)
Currently exempted from holding a licence under the transitional arrangements in the Payment Services (PS) Act.
Other regions
Since June 2022, Cake DeFi is authorized to conduct services for exchanging cryptocurrency, and providing and administering cryptocurrency custodial wallets in Lithuania. This will facilitate Cake's cryptocurrency registration and authorization in other EEA member states and for future conversion into an EU-wide cryptocurrency authorization when the EU Markets in Crypto-assets (MiCA) Regulations become effective.
Travel Rule
The Monetary Authority of Singapore (MAS) has incorporated the Financial Action Task Force Value Transfer Requirements ('Travel Rule') under the Payment Services Act (Notice PSN02).
In compliance with the requirements, Cake DeFi will be implementing new measures on funds withdrawals.
The following changes will take place as of 31 March 2022:
Users can only withdraw to whitelisted addresses.
Users have to indicate whether the withdrawal addresses belong to a private (non-custodial) wallet or a platform (custodial).
Users have to indicate the name of the platform if the withdrawal addresses belong to a platform (custodial).
Users have to declare that they are the owner of the withdrawal addresses.
More details available on Cake DeFi FAQ section.
Social media
Transparency
"Cake DeFi regularly provides customers with personalized cash flow reports and full transparency with our blockchain nodes, liquidity mining pools and reward transactions."
Cake DeFi has a dedicated micro-site on transparency and publishes transparency reports quarterly.
Proof of reserves
Users are able to access their respective Merkle trees to verify their funds. These Merkle trees can be accessed through the personal hash IDs that Cake DeFi generates based on the user IDs.
Cake DeFi explains Merkle Tree Proof. Simple enough for a layman like me to understand the underlying concept.
Ecosystem
DFI Coin
Rewards from Cake DeFi staking are given out in $DFI coin. The $DFI coin is an integral unit of account in DeFiChain.
I feel that the DeFiChain project has great potential and am staying vested by holding on to my staking rewards.
Borrow
Pledge crypto assets as collateral in exchange for stablecoin to participate in Cake DeFi's Lending, Staking and / or Liquidity Mining, either directly or by swapping the DUSD into other coins.
"EARN" By Cake DeFi
Introduced in September 2022, EARN is a Cake DeFi service that allows users to generate cash flow with just one type of crypto and in a more stable manner.
Cake Defi says EARN is unique because:
it is easy-to-use, transparent and secure
combines all the known benefits of liquidity mining and lending
addresses risks like volatility loss risk, impermanent loss, and counter-party risk.

there are no institutional partners involved in EARN. This means that assets are allocated into pools that are directly located on the DeFiChain blockchain and therefore there is no counter-party risk.

it allows participation in liquidity mining with just one type of crypto
returns are auto-compounding
When I compare staking DFI vs allocating them to EARN, staking seems to earn a much higher yield. I am not sure what advantages EARN has over staking. Would update when I understand more.
Freezer
The Freezer product allows you to receive standard rewards, 1.5x the standard rewards and double the standard rewards. Special nodes hosted directly on the DeFiChain blockchain allow for increased rewards. However, these higher rewards only apply for freezing periods of 5 and 10 years, as part of DeFiChain's emission structure.
As this is offered via DeFiChain, it will be a fixed arrangement and therefore, it won't be possible to downgrade or cancel an existing Freezer entry. There is no way to withdraw your assets before the scheduled end date upon commitment.
Learn & Earn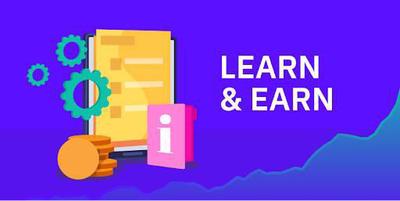 Launched in Oct 2021, "Learn & Earn" enables users to earn a small amount of cryptocurrencies whilst learning about crypto, blockchain and DeFi, in a simple, easy-to-understand, and engaging way.
Users that signed up from the 29th March 2022 onwards will be eligible for up to $10 in crypto. Users who have signed up prior to that may be eligible for a reward during specific promotional periods when announced by Cake DeFi.
Lending
Lend out your crypto assets to earn interest.
Each Lending batch starts on Friday at 4 p.m. Singapore Time, and ends after 4 weeks on Friday at 4 p.m. Singapore time.
After a lending batch, users will have the option to:
auto-compound (automatically roll-over) into the next batch (APY may be subject to change),
withdraw only proceeds,
withdraw entire principal and returns back to account.
The settlement can be viewed within 24 hours after each batch ends.
Liquidity mining
Deposit your favorite coins into shared liquidity mining pools and mine popular coin pairs for high rewards and minimal fuss.
Staking
Key points of Cake DeFi's staking service:
Cake DeFi's Staking rewards are determined by the underlying blockchain protocol
Full transparency via on-chain data
Cake DeFi does not pool customer assets to satisfy blockchain minimum requirements
The customer decides when to stake and unstake the coin of their choice
Strict segregation of funds
Detailed explanation can be found in a blog piece by Cake DeFi.
DefiChain
Join fully transparent masternode pools to earn staking yields (in DFI) in real-time, without the complexity of running nodes yourself.
ETH staking
Earn industry leading annual percentage yields (APY) through auto-compounding with Singapore-based nodes
YieldVault
YieldVault launched in March 2023 and is only available in the mobile app at launch time. YieldVault generates yields directly on the DeFiChain, which can be tracked and verified on Cake DeFi's Transparency Page.
Rewards are paid out in-kind, meaning if you allocate Bitcoin, you'll receive your rewards in Bitcoin.
Another important feature of YieldVault is that there is no lock-in period. Users are free to withdraw funds from YieldVault at any time.
✔️ Unique Selling Proposition (USP)
Asset segregation
Cake DeFi practices clear asset segregation whereby customers' assets are kept separate from Cake DeFi's operating accounts. These safeguards ensure that Cake DeFi cannot and will not misappropriate any user assets by utilizing them for the company's own purposes.
As such, if Cake DeFi were to become insolvent, creditors (if any) would have no claim over users' assets.
Source: DO YOU REALLY OWN YOUR CRYPTOS? Why Asset Custody & Segregation Should Matter To You
12-hourly payouts
Cake DeFi pays out rewards every 12 hours.
No minimum amount required to stake
You can stake even fractions of a cryptocurrency.
Social login
As of August 2022, you can conveniently sign up and login with your Apple, Facebook, or Google account.
❌ Drawbacks
Expensive to create deposit address for some cryptocurrencies
Creating deposit addresses on the Ethereum network are charged. For example:
The fee is only charged once. The same Ethereum wallet address can be used to transfer USDC, USDT, ETH, DFI … over the Ethereum network.
To avoid this fee, use the 'DeFiChain' transfer network to deposit assets of these cryptocurrencies where possible.
The fee is adjusted periodically according to market conditions. Last I checked in August 2022, it was US$10 (pretty reasonable), and will be reimbursed back to the client for deposits above US$1000.
Roadblocks when off-ramping from Cake DeFi
Expensive to withdraw USDC and USDT on Ethereum via ERC20
Withdrawal fees for USDC and USDT via ERC20 is can be very expensive. A workaround is to swap to DFI and withdraw to a platform that supports DFI.
The fee is adjusted periodically according to market conditions. In late March 2022, it was $16.
Limited options to off-ramp DeFiChain (DFI) coin
Within Cake DeFi platform itself, DFI can only be swapped into DUSD or Decentralised Assets dTokens (e.g. dTSLA, dBABA). However, as of February 2022, such tokens are not listed anywhere else apart from the DeFiChain Decentralised Exchange (DEX).
The workaround to resolve this is to:
withdraw DFI to a DeFiChain wallet that supports the DeFiChain DEX.
use the DeFIChain DEX to swap into DFI into a suitable wrapped token for off-ramping. Examples include dBTC, dETH, dBCH, dDOGE, dLTC, dUSDC, dUSDT etc
send the wrapped tokens (e.g. dBTC) back to Cake DeFi for unwrapping.
withdraw from Cake DeFi to centralised exchanges to off-ramp to fiat or stablecoins.
The above approach would be complex for a novice investor not familiar with the DeFi space to execute, and would involve fees and charges.
A simpler approach is to withdraw DFI to a centralised exchange to off-ramp to fiat or stablecoins. However, as of February 2022, only a small handful of centralised exchanges support the DFI coin. KuCoin is one of the few major platforms that lists the DFI coin.
Usage Notes and Tips
Getting tax report from mobile app
You can send a request for a tax report to be sent to your email via the Cake DeFi mobile app.
Android app instructions:
Go the the "Activity" tab
Select "All transactions" from the top portion of the screen.
In the "Transactions" view, tap on the download icon on the top right corner of the screen to bring up the tax report request screen.
Select the data and export format desired, then tap "Export" to have the report sent to your email.
Manual instructions required to start earning
As Cake DeFi has a few options to earn from your crypto assets, namely "Liquidity Mining", "Staking" and "Lending", you will need to manually select how to allocate your assets after transferring them into Cake DeFi.
If you forget to do so, then the assets are just lying in the Cake DeFi account and not earning for you.
Purchasing cryptocurrency directly on Cake Defi is expensive
Cake DeFi is not an exchange but it offers options to purchase crypto assets (BTC/ETH) with fiat currency via credit/debit cards.
How it works: Purchases will be processed by Cake's trusted partners (Transak or BANXA), and the crypto will automatically be deposited in the user's account on Cake. You would need to have an account with these partners as well, and complete their KYC processes.
Anecdotes on the internet mention this approach is prohibitively expensive due to gateway fees, conversion fees and spreads. It would be wiser to purchase the crypto assets on a crypto exchange and transfer in.
Resources