Tokenize Xchange Review + Site Exclusive Referral Benefits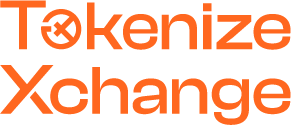 Receive 3 TKX (worth ~$22 USD on 2 Dec 2022) simply by using the referral link or referral code: bG2w3 to sign-up with Tokenize Xchange, and completing the Know-Your-Customer (KYC) process.
Why you should use our referral code?
EXCLUSIVE no minimum trading volume requirements to meet for referral benefits
UPGRADED referral benefit of 3 TKX instead of usual 2 TKX
Special Notes: The TKX token is doing well in the current crypto downturn. Back in July 2022, 3 TKX was worth ~USD$10.8. Furthermore, our site exclusive referral offer only requires new clients to open an identity verified account to receive 3 TKX which is quite generous.
Table of Contents
Company
Asia's Leading Digital Assets Exchange
Founded by Hong Qi Yu in 2017, Tokenize Xchange (Tokenize) is a Singapore-headquartered digital exchange platform that allows the trading of digital assets in a safe and secure environment with competitive fees.
Tokenize is one of the first three digital asset exchange (DAX) operators to receive full approval from the Securities Commission Malaysia in April 2020. In Malaysia, Tokenize is currently the second-largest DAX by traded market share.
Key metrics
100,000+ users across Singapore, Malaysia, Thailand, and Vietnam. (Nov 2021)
Notable developments
Branding refresh [Jan 2023]
Presence in Singapore
Tokenize Xchange is currently headquartered in Singapore.
Entity: AMAZINGTECH PTE LTD (UEN 201611619W)
Regulatory Compliance
Monetary Authority of Singapore (MAS)
Currently exempted from holding a licence under the transitional arrangements in the Payment Services (PS) Act.
Travel Rule
In accordance with the regulatory measures incorporated by the Monetary Authority of Singapore (MAS), Tokenize Xchange users are required to provide additional information for digital token transfers.
Social media
Standards Compliance
ISO 27001
In August 2023, Tokenize Xchange announced that it has received ISO 27001 certification.
ISO 27001 is a globally recognized standard that outlines the requirements for implementing and maintaining an effective Information Security Management System (ISMS). An ISMS is a structured approach to managing sensitive company information, guaranteeing its confidentiality, integrity, and availability.
Transparency
Tokenize's own proprietary Token, TKX, is not used as collateral for loans and has no exposure to debt.
Ecosystem
Crypto Earn
Tokenize Crypto Earn acts as a digital wallet that allows you to keep your crypto safe while earning high interest. Cryptocurrencies support include Bitcoin, altcoins, and stablecoins.
Interest is paid out at the beginning of every month, and the interest earned is calculated using simple interest.
How are the locked crypto assets generating interest?
Tokenize generates interest on assets held in Interest Accounts by lending them to trusted institutional and corporate borrowers. To ensure performance, Tokenize typically lends crypto on over collateralized terms (similar to the structure of crypto-swap).
Furthermore, Tokenize's automated risk management system monitors positions 24/7. Tokenize has the ability to terminate borrowing in a timely fashion and also manages reserve balances to facilitate client withdrawals from Earn Accounts.
Tokenize client funds are structured to be at the top of the capital stack, senior to Tokenize equity and Tokenize employee capital. This means Tokenize's business and client incentives are aligned and Tokenize would take a loss before any client would.
Tokenize implements very thoughtful risk management practices and technology to mitigate the risk, but you should not view the Tokenize Crypto Earn as a savings account or brokerage account with insurance.
Crypto Loan
Starting from 1st Feb 2023, Premium and Platinum users can choose to use their crypto assets as a means to borrow more crypto in return.
Premium and Platinum Membership
User can upgrade their membership to enjoy benefits like:
Fuss-free deposits via bank transfer with 0 transaction fees
Lower trading fees per transaction
"FLEXI" Feature for Crypto Earn: stake and withdraw anytime
Zero withdrawal fees for Platinum users holding at least 5,000 TKX in wallet
The Premium membership fee will be reduced from 80TKX to 20TKX from February 2022 onwards.
Tokenize Emblem (TKX) token
Tokenize Emblem (TKX) is an ERC20 token based on the Ethereum blockchain.
By holding TKX in your wallet, you can easily pay the trading fee with your TKX to enjoy 30% discount from Tokenize Xchange.
✔️ Unique Selling Proposition (USP)
Zero cost transfers between Tokenize Xchange wallets
It costs nothing to send crypto assets from your Tokenize wallet to another's! This is useful for sending crypto assets as gifts, or helping friends to get started in crypto investments.
Just remember to check the 'Internal transfer agreement' checkbox in the transfer form.
❌ Drawbacks
No stablecoin support, resulting in higher trading fees
[Update 2 Nov 2021]: Tokenize Xchange has brought back the stablecoin XSGD but there is only 1 trading pair BTC/XSGD available at the moment. I hope to withdraw this negative opinion after support for more trading pairs are added.
Tokenize Xchange removed stablecoin support from 20 Aug 2021 onwards. There are presently four markets (BTC/ETH/SGD/USD) on Tokenize Xchange, meaning when we sell our crypto assets, we can receive the proceeds in either cryptocurrencies (BTC/ETH) or fiat currencies (SGD/USD).
The prices of BTC and ETH are always volatile, and therefore not an ideal way to hold funds should one wish to sit on the sidelines and wait for buy-in opportunities.
Since there are no stablecoins on Tokenize Xchange, the next best option is to receive the proceeds in the fiat currencies SGD or USD.
For traders and small investors, this is an issue because Tokenize Xchange charges higher trading fees for Fiat to Crypto trades for normal and premium users.
One way to mitigate this effect is to use TKX to pay for your trading fees, which gives a 30% discount.
Usage Notes and Tips
Caution on trading fees
The trading fees will be lowered starting from 14 February 2022. For crypto-crypto trades, the new pricing brings it more in line with the major players, which is good news for investors.
See the trading fees screenshot below: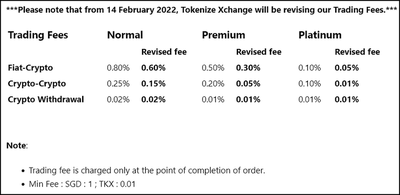 It is important to take note of the footnote, which states that is a minimum fee of SGD$1 or 0.01 TKX, depending on how you choose to pay your trading fees. This can be set under your account preferences.
As of 13 February 2022, 0.01 TKX works out to ~SGD$0.105. Thus if you are making small trades, it makes much more sense to pay your trading fees in TKX.
Moreover, one can enjoy a 30% discount when paying trading fees in TKX.
If for whatever reason you still prefer to pay the trading fees in Singapore dollars, due to the minimum trading fee of SGD$1, the trade value should be at least SGD$166.66 to keep the effective fee rate at 0.6%.
Customer support is responsive
I have created a couple of tickets asking questions with regards to the platform and both times, I have received timely responses; so I am quite happy with the quality of customer support at Tokenize Xchange.
Difference between 'Normal' and 'Verified' membership types
If you look at the withdrawal fees table, you will notice there are different rates for 'Normal', "Premium', 'Platinum' and 'Verified' users.
The 'Premium' and 'Platinum' tiers are users who spend to upgrade their accounts, but I wasn't sure what was the difference between 'Normal' and 'Verified' accounts, and wrote in to clarify.
The response I received was that 'Verified' was a term used for certain specific countries. In Singapore, the tier upon signing up is 'Normal'. This can be verified by looking under the 'Profile' section of your account.

Funding related
4 ways to deposit SGD to your wallet
The 4 ways (as of June 2022) to fund your Tokenize account with SGD are:
StraitsX
Credit/Debit Card
Direct Bank Transfer (For Premium and Platinum members)
GrabPay
Tokenize has published a blog with detailed steps on the above 4 methods.
GrabPay Support
Tokenize Xchange is collaborating with Grab to support funding Tokenize accounts using GrabPay, starting from 14 February 2022. Do note that there is a 1.5% fee for each transaction via GrabPay.
StraitsX Direct deposit fee
The fee for depositing with StraitsX Direct on Tokenize Xchange is 0.3%.
Minimum balance required for Crypto Earn
The Tokenize Crypto Earn requires a minimum deposit balance to be eligible to earn interest. Some of the minimum balances required are quite high.
Stake 100 TKX to get better Crypto Earn rates
'Crypto Earn' offers higher interest rates to users who stake at least 100 TKX. As of 30 Oct 2021, 100 TKX would cost about S$1300.