KuCoin Review, Usage Tips and Referral Benefits

Sign up with KuCoin via our affiliate referral link or code: QBSSSAPK, and:
claim up to $510 in welcome bonuses

a mystery box which gives various amounts of USDT to new users
coupons when engaging in numerous trading activities, lucky draws etc

receive 20% fee discounts on your trades.

KuCoin allows us to specify the percentage of commission rebate to share to referees (from 0-20%), and we are offering the maximum of 20% to all who use our referral link to sign up.

Table of Contents
Company
Find the Next Crypto Gem on KuCoin. 1 Out of 4 Crypto Holders Worldwide Is with KuCoin.
KuCoin is a global cryptocurrency exchange for numerous digital assets and cryptocurrencies. Launched on 27 September 2017, KuCoin has grown to become one of the most popular crypto exchanges.
Known as the "People's Exchange", KuCoin operates in Seychelles, providing its utmost to establish multilingual communities for its users as well as 24/7 customer service. Meanwhile, KuCoin has established 19 local communities in North America, Europe, SEA, and other regions, providing users with highly local services.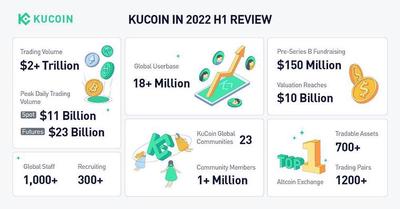 Investors
Key metrics
700+ altcoins offered [May 2022]
1000+ global staff [Jul 2022]
20+ million registered users across 207 countries and regions around the world. [Jul 2022]
Notable developments
New York Attorney General Letitia James sued digital asset exchange KuCoin for violating New York laws governing the trading of securities and commodities [Mar 2023]
KuCoin and Susquehanna International Group (SIG) will collaborate in blockchain startup incubation and KCS & KCC ecosystem building [Jul 2022]
launch of KuCoin Wallet [Jun 2022]

decentralized crypto wallet to offer users Web 3.0 services
KuCoin Wallet will integrate Windvane, a one-stop NFT marketplace, to enable users to buy, store, and view their NFT collections directly within the wallet.
self-custodial wallet with security techniques audited by Hacken

launch of NFT launch platform – KuCoin IGO [8 Apr 2022]

first project on KuCoin IGO is Pikaster, which is a card-battle game.

KuCoin Labs Launches $100 Million Metaverse Fund To Empower Early-Stage Metaverse Projects [Nov 2021 on businesswire.com]
KuCoin announces officially its crypto market analysis and research institution - KuCoin Labs [Apr 2021]

KuCoin Labs has established a $50 million fund to find the next crypto gem and empower the development of early-stage crypto projects.
Presence in Singapore
Web domain kucoin.com is registered under Singapore company PHOENIXFIN PTE. LTD. (UEN: 201802745M).
Regulation by Monetary Authority of Singapore (MAS)
Unknown.
Social media
Transparency
Email on 12 November 2022: KuCoin is working on the Merkle-tree proof-of-reserves. The third-party auditor Armanino LLP, a leading audit firm requires about one month to complete the audit and KuCoin will publish the proof in early December.
KuCoin also shared details of their hot and cold wallet addresses in a blog article: Transparency and Trust
KuCoin hot and cold wallet addresses

BTC:

bc1qgrxsrmrhsapvh9addyx6sh8j4rw0sn9xtur9uq
38fJPq4dYGPoJizEUGCL9yWkqg73cJmC2n
bc1q8yja3gw33ngd8aunmfr4hj820adc9nlsv0syvz
bc1q080rkmk3kj86pxvf5nkxecdrw6nrx3zzy9xl7q
TRYL7PKCG4b4xRCM554Q5J6o8f1UjUmfnY
0xd6216fc19db775df9774a6e33526131da7d19a2c

ETH:

0xd6216fc19db775df9774a6e33526131da7d19a2c
0xcad621da75a66c7a8f4ff86d30a2bf981bfc8fdd
0xd89350284c7732163765b23338f2ff27449e0bf5
0xb8e6d31e7b212b2b7250ee9c26c56cebbfbe6b23
0xd6216fc19db775df9774a6e33526131da7d19a2c

USDT:

0xec30d02f10353f8efc9601371f56e808751f396f
0x88bd4d3e2997371bceefe8d9386c6b5b4de60346
0xd6216fc19db775df9774a6e33526131da7d19a2c
TQeNNo5zVarhdKm5EiJSekfNXg6H1tRN4n
TUpHuDkiCCmwaTZBHZvQdwWzGNm5t8J2b9
TEWzF5ZsaWMh6sTNDPrYaPJrK8TTMGfwCC
TRYL7PKCG4b4xRCM554Q5J6o8f1UjUmfnY
T6MXHXMGXURKJ7AD5NCB4IYPLWX
YXKKFLLO5KAPJ5
6GKS7BFXHNHOODZCM
IMGMVBZEPMM36AIMWI7FZHG2G44
KEESC5ALZHWX7B7SBNBDY6Z7COYMO6U
qlwzviixzm1h
kucoinrise11
0xd6216fc19db775df9774a6e33526131da7d19a2c
0x2a8c8b09bd77c13980495a959b26c1305166a57f
0x14ea40648fc8c1781d19363f5b9cc9a877ac2469
0xb8e6d31e7b212b2b7250ee9c26c56cebbfbe6b23
0xd6216fc19db775df9774a6e33526131da7d19a2c
0x03e6fa590cadcf15a38e86158e9b3d06ff3399ba
0xf3f094484ec6901ffc9681bcb808b96bafd0b8a8

USDC:

T6MXHXMGXURKJ7AD5NCB4IYPLWX
YXKKFLLO5KAPJ56GKS7BFXHNHOODZCM
IMGMVBZEPMM36AIMWI7FZHG2G44
KEESC5ALZHWX7B7SBNBDY6Z7COYMO6U
0xf16e9b0d03470827a95cdfd0cb8a8a3b46969b91
0x738cf6903e6c4e699d1c2dd9ab8b67fcdb3121ea
0xd6216fc19db775df9774a6e33526131da7d19a2c
0x1692e170361cefd1eb7240ec13d048fd9af6d667
TUpHuDkiCCmwaTZBHZvQdwWzGNm5t8J2b9
TRYL7PKCG4b4xRCM554Q5J6o8f1UjUmfnY
0xd6216fc19db775df9774a6e33526131da7d19a2c
0x2a8c8b09bd77c13980495a959b26c1305166a57f
0x14ea40648fc8c1781d19363f5b9cc9a877ac2469
0xb8e6d31e7b212b2b7250ee9c26c56cebbfbe6b23
0x03e6fa590cadcf15a38e86158e9b3d06ff3399ba
0xf3f094484ec6901ffc9681bcb808b96bafd0b8a8
0xd6216fc19db775df9774a6e33526131da7d19a2c
0xa3f45e619ce3aae2fa5f8244439a66b203b78bcc
0xebb8ea128bbdff9a1780a4902a9380022371d466
0xd6216fc19db775df9774a6e33526131da7d19a2c

KCS:

0xb8e6d31e7b212b2b7250ee9c26c56cebbfbe6b23
0xd6216fc19db775df9774a6e33526131da7d19a2c
0x14ea40648fc8c1781d19363f5b9cc9a877ac2469
0x2a8c8b09bd77c13980495a959b26c1305166a57f
0xd6216fc19db775df9774a6e33526131da7d19a2c
0xf16e9b0d03470827a95cdfd0cb8a8a3b46969b91
0x738cf6903e6c4e699d1c2dd9ab8b67fcdb3121ea
Ecosystem
Access to platform
GemBox
GemBox is a feature of KuCoin that can help the users discover and select the most popular cryptocurrencies.
KuCoin Token (KCS)
KCS is the native token of KuCoin which was launched back in 2017, as a profit-sharing token that allows traders to draw value from the exchange. It was issued as an ERC-20 token running on the Ethereum network and was supported by most Ethereum wallets.
On 29 March 2022, KuCoin and the KCS Management Foundation jointly released the KCS Whitepaper.
The KCS Foundation website presents the whitepaper details with beautiful info-graphics. A PDF version can also be found there too.
The KCS Whitepaper provides detailed explanations and bold prospects for the future development, governance, token redistribution, value capture and deflationary mechanism, and self-circulating ecosystem of KCS.
More information can be found at our article dedicated to KCS.
KuCoin Earn
Participate in savings and staking activities to grow your crypto asset holdings.
KuCoin Futures
Reasonable Mechanism to Prevent Liquidation: Index price adopts 6 exchange prices to avoid unusual liquidation
Supports up to 100x leverage
Welcome bonus for users and up to 40% commission rebate
KuCoin Pool
Merged Mining/Smart Pool​: Merged mining and FPPS settlement that guarantees the mining income​
Extremely Low Mining Fee​: KuCoin Pool provides the lowest mining fees in the industry ​
Sound Security System​: Sound and robust security system that guarantees users assets and privacy
KuCoin Spot Trading
Efficient Matching Engine: Supports up to 1 million transactions per second without any overload
High Liquidity: Highest daily volume of nearly $500 million (USD) with the smallest bid-ask spread in the industry
Up to 10x Leverage: Margin trading that supports cryptos such as BTC, ETH and KCS
Multiple Fiat Gateways: Support the purchase of crypto with 50+ fiat currencies​
High-Yield Finance Service: Earn up to 10% annualized return through finance services
Competitive Fees: Attractive taker and maker fee structure plus VIP discount
KuCoin Spotlight (ICO/IEO)
Launched in 2019, KuCoin Spotlight is a platform that allows qualified investors to join the token sale of early-stage blockchain projects. Users need to hold a minimum amount of KuCoin Token (KCS) to participate in Spotlight launches, and KCS is used as the swap currency for the offered tokens.
KuCoin Community Chain (KCC)
Built by the fans of KCS and KuCoin's fan communities, KCC is a decentralized public chain with EVM compatible and high performance. KuCoin Token (KCS) is the only fuel and native token for KCC and can be used to pay gas fee.
KCS Bonus
Hold KCS and get bonus everyday
KCS Bonus is regarded as one of the best ways to get passive income. Users who hold more than 6 KCS can get a daily dividend, which comes from 50% of KuCoin's daily trading fee revenue. KCS Bonus is a unique incentive mechanism for KCS holders and KuCoin ecosystem builders. The amount of rewards that users can get depends on the number of KCS held and the trading volume of the KuCoin Exchange.
Note 1:
Users need to login and claim their KCS bonuses manually into their 'Main Account'. This is probably KuCoin's strategy to keep users constantly engaged with the platform.
Unclaimed bonuses will just continue to accumulate daily and will not be forfeited. You will lose out on compounded returns though as unclaimed bonuses are not part of the daily calculations.
Note 2:
If your KCS is in a trading bot then the KuCoin Bonus will be automatically received and goes to the bot sub-account.
Pay trading fees with KCS
KCS can be used to pay trading fees on the KuCoin Exchange, allowing users to enjoy discounts of 20%.
Pool-X (KuCoin Staking)
Enable Staked Crypto Trading​: The locked-up assets can be traded and end the staking status in the liquidity market at any time​
Double Rewards​: Users can obtain staking rewards plus POL mining rewards​
High Flexibility​: Freely choose between the Flexible staking products and the Fixed staking products
Trading bots
KuCoin offers investors to create automated trading bots based on various strategies. The bot services are provided FREE and KuCoin earns through transaction fees. As of February 2022, there is a limit of 10 bots running at a time.
Tip: My favourite feature is the ability to setup a dollar cost averaging (DCA) bot that can buy in every hour for as low as 1 USDT.
As of February 2022, over 6.3+ million bots have been created since the feature was launched a year ago. Bots boost the transaction volumes at KuCoin and consequently helps increase the value of the KuCoin Token (KCS).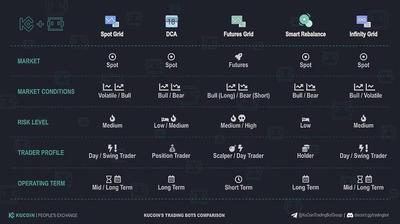 Trading bot discussion channels:
My notes on using KuCoin trading bots can be here in a separate blog post.
Windvane
Launched in 2022, Windvane is a decentralized NFT marketplace powered by KuCoin.
✔️ Unique Selling Proposition (USP)
Free usage of KuCoin trading bots
KuCoin offers trading bots to use for free. The bots can be used for:
arbitraging in volatile markets,
Dollar Cost Averaging (DCA) investment,
leveraging long or short futures,
perform smart re-balancing of portfolios
Industry Recognition
CoinMarketCap consistently ranks KuCoin as amongst the Top 10 cryptocurrency exchange platforms.
ICO Rating listed KuCoin as one of the ten "A-level" rated exchanges in the Exchange Security Report.
Forbes Advisor named KuCoin as one of the Best Crypto Exchanges for 2021.
Low Trading Fees
KuCoin offers some of the lowest trading fees on the market (with a base fee of 0.1% for both market makers and takers for spot trading), alongside deep liquidity for its hundreds of supported cryptocurrencies.
The article 'KuCoin Fees: A Full Breakdown Before Trading Crypto' covers all you need to know about the fees that KuCoin charges for major categories like:
Spot Trading Fees
Futures Trading Fees
Leveraged Token Fees
Trading Bot Fees
Supports 600+ projects with 1,000+ trading pairs. Number 1 alt-coin exchange.
KuCoin has one of the largest offering of trading pairs. A number of projects like ICP, BOSON, AERGO, RNDR, and DAO had their primary listing on KuCoin.
The People's Exchange
The KuCoin platform was designed for investors of all types, with 24/7 world-class services in your preferred channel and language. There are dedicated global communities on the various social media platforms catering to different languages and countries.
Usage Notes and Tips
Off-ramp DeFiChain (DFI) Coin from Cake DeFi
KuCoin is one of the few major platforms that lists the DFI coin. If you are using Cake DeFi to earn interest on your assets, KuCoin is one option to offload your DFI earned from Cake DeFi.
On/off ramp KCC DeFi projects
I use KuCoin to on/off ramp my crypto assets to DeFi project like MojitoSwap which operates on the KuCoin Community chain (KCC).