CoinList
Join CoinList with the referral link and earn US$10 in BTC when you buy/sell US$100 worth of assets in a single trade on coinlist.co.
Referral reward is limited to 2,000 new customers monthly on a first-come-first-serve basis.
Terms and conditions apply.
Table of Contents
Company
CoinList is headquartered in San Francisco, California and was founded in 2017.
Investors
CoinList Raises $100M Series A to Fuel Global Expansion, bringing CoinList's valuation to $1.5 billion [Oct 2021]
What Is Series A Financing?

Series A financing refers to an investment in a privately-held, start-up company after it has shown progress in building its business model and demonstrates the potential to grow and generate revenue.

Series A financing comes from well-established venture capital (VC) and private equity (PE) firms.
Key metrics
5+ million users [Nov 2021]
Presence in Singapore
Unknown
Regulation by Monetary Authority of Singapore (MAS)
Unknown
Social media
Ecosystem
Trading platforms
CoinList Karma
Your CoinList Karma score is an indicator of your contribution to token networks on CoinList. The greater your contribution through value-add activities, the higher your Karma.
Eligible users with a high level of Karma can earn access to the Priority Queue on CoinList. The Priority Queue is an invite-only queue for token sales that is significantly shorter than the main token sale queue (in the low thousands compared to hundreds of thousands).
In a March 2022 newsletter, CoinList shared that in recent token sales, many registrants with a CoinList Karma score of approximately 2,000 or greater were invited to the priority queue for CoinList token sales.
CoinList users with at least 2,000 Karma points one free monthly withdrawal on any tokens offered on CoinList.
The withdrawal credit must be redeemed within the month it was awarded. The free withdrawal is limited to transactions with gas fees at or below $100.
CoinList Seed
Not relevant to individual investors but good to know, CoinList Seed is how CoinList helps early-stage crypto startups that are looking to raise their first rounds of funding. It is a virtual demo day for crypto founders to connect with the qualified investors on CoinList.
CoinList Seed Fall 2021 Batch

summary of projects

Talent Protocol - Talent Protocol is the professional network where talent can launch a branded personal token, and where sponsors can make angel investments in careers they believe in.
Swash - Swash enables internet users, developers, and businesses to cultivate new realities of data ownership and value creation through innovative incentivization streams.
Creaticles - Creaticles is the world's first bespoke NFT platform that seeks to safely and easily match buyers looking to acquire specific art to talented and curated artists.
Pawnfi - Pawnfi is the first DeFi product which introduces the pawn concept, a brand-new lending and leasing market to provide fair appraisal, liquidity, and other use case for Non-Standard Assets (NSA).
Burnt Finance - Burnt allows users to take auctions into their own hands, enabling the minting and trading of any asset in an entirely permissionless ecosystem.
tiiik - tiiik is a digital wallet that strives to make DeFi safe and accessible for the next billion users with a regulated one-click gateway to a new financial system.
CID gravity - CID gravity is building a 2nd layer of trust between Filecoin stakeholders, that de-risks their data and increases miner's profitability.
Masa - Masa is a decentralized credit protocol enabling the mass adoption of DeFi by bridging CeFi data to DeFi. Masa's credit infrastructure serves prime borrowers plus 3 billion credit invisible people.

CoinList Seed Winter 2022 Batch

summary of projects

CoinList Seed Summer 2022 Batch

summary of projects
Learn And Earn
"Learn And Earn" is an incentivized learning program newly launched in 2022. From the CoinList dashboard, navigate to "Rewards" –> "Learn And Earn", where you can learn about crypto projects and earn some altcoins.
For example, in March 2022, I earned $6 in Tezos (XTZ) after watching 3 YouTube videos and answering 6 quiz questions.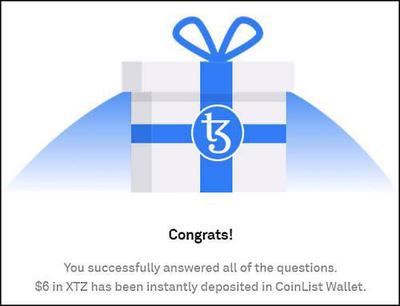 Staking
CoinList stakes, generates, and signs blocks on your behalf while you retain full ownership of your tokens and earn rewards.
✔️ Unique Selling Proposition (USP)
Initial Coin Offering (ICO) / Community Sales
Get access to the best new tokens before they list on other exchanges.
This is the key feature of CoinList. It allows investors to get access to new digital assets before they appear on other exchanges.
An initial coin offering (ICO) is the cryptocurrency industry's equivalent to an initial public offering (IPO). A crypto project launches an ICO to crowdfund the project. Investors can buy into the offering and receive a new cryptocurrency token issued by the company.
CoinList has a track record of launching successful projects, thus demand consistently outstrips supply by orders of magnitude.
The best performing project by far is Solana which was launched in March 2020.
As of October 2021, the returns of investment is an astounding 87,7889%.
❌ Drawbacks
No portfolio overview in CoinList Pro
CoinList Pro allows users to place advanced orders like 'Limit orders' unlike CoinList.co which only supports 'Market orders'. The transaction fees on CoinList Pro are also cheaper.
However, a major gripe is that there doesn't seem to be a portfolio overview within CoinList Pro. To check current holdings, users have to:
go to 'deposit/withdrawal' section; or
look through the transaction history and filter by cryptocurrency using the provided dropdown box; or
request for an account statement.
Usage Notes and Tips
Deposit Into Anchor Protocol Through CoinList And Earn Rewards
Anchor Protocol is a saving protocol built on the Terra blockchain where users can earn stable and attractive yields on stablecoin deposits.
Eligible CoinList users can deposit UST into Anchor directly on CoinList and earn rewards without having to use the Anchor web app. To top it off, CoinList is not charging fees at this time (January 2022). Learn more.
You can find this feature under the "Rewards" section on the CoinList web portal's left menubar.
Deposit USDT instead of USDC if planning to trade in CoinList Pro
Most of the trading pairs in CoinList Pro are in USD or USDT. There is no support for converting USDC into USDT in CoinList Pro.
Within the CoinList.co wallet, there is only support to convert USDC into USD, which is charged with a 0.25% fee.
ICO allocation system
Unlike our HDB BTO balloting system, CoinList ICOs require investors to login at the ICO launch timings and obtain a randomised queue number. If you get a large queue number, the chances of purchasing tokens for the ICO is basically naught.
I have registered for ~10 ICOs launches, but have only been successful in getting allocated during the Mina ICO.
For the Mina ICO, over 375,000 CoinList customers registered interest, but only 40,500 managed to get any allocations.
Singapore time zone causes inconvenience when participating in ICOs
Due to time zone differences, ICO are always launched at the odd timings in Singapore time.
During Daylight Savings Time (DST) period between March to November, the typical token sale timings are 1am and 7am. Otherwise, the typical token sale timings are 2am and 8am.
Stuck with UST Classic (USTC) on CoinList
I had some UST on CoinList before Luna and UST crashed in May 2022. Holdings with CoinList were not eligible for airdrops on the new Luna.
CoinList later announced that it would indefinitely suspend trading of UST on CoinList, CoinList Pro, and the CoinList mobile app.
Key points:
Effective June 22, 2022 at 12 PM PT (the Suspension Time), UST trading will be suspended on CoinList
All open orders on CoinList Pro will be canceled automatically at or before the Suspension Time
UST deposits will be disabled once trading is suspended and you will not be able to add any UST tokens to your CoinList Wallet after the Suspension Time
You will still be able to store and withdraw UST tokens in your CoinList Wallet (Note: CoinList only supports ERC20 UST tokens on the Ethereum blockchain)
Since my UST Classic holdings are essentially worthless, it doesn't make sense to pay for the ETH gas fees to transfer them out of CoinList.