Coinbase Review, Usage Tips and Referral Benefits
Ready to buy your first crypto? Open an account today at Coinbase with the referral link, and if you buy or sell US$100 or more of crypto, you'll receive US$10 worth of free Bitcoin!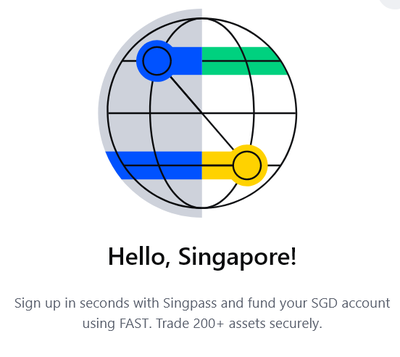 Table of Contents
Company
Founded in June 2012, Coinbase is the largest crypto-currency exchange in North America. It was publicly listed on NASDAQ on 14 Apr 2021.
The launch of the USDC stablecoin was powered by a collaboration between Coinbase and Circle through the co-founding of the CENTRE Consortium.
Coinbase's "Mission, Vision & Strategy":
Investors
GIC was among investors who raised $300 million for Coinbase in 2018

GIC is a sovereign wealth fund established in 1981 to manage Singapore's foreign reserves
Key metrics
108+ million customers [Nov 2022]

43+ million verified customers (reported for filing for NASDAQ listing)

held $256 billion in fiat currencies and virtual coins. [May 2022]
Notable developments
Presence in Singapore
"We see Singapore as a strategic market and a global hub for Web3 innovation," said Hassan Ahmed, Coinbase's regional director for Southeast Asia. [Oct 2022]
As of October 2022, Coinbase has nearly 100 employees in Singapore, with product engineers forming the largest bulk of hires.
Entity: Coinbase Singapore Pte. Ltd. ("Coinbase SG") (UEN: 201935002N)
Location: One Marina Boulevard, #28-00, Singapore 018989.
Regulatory Compliance
Monetary Authority of Singapore (MAS)
Received in-principle approval for license in October 2022.
View the legal user agreement for Singapore users.
Travel Rule
Effective September 5 2023, Coinbase will require additional counterparty information when a customer in Singapore receives a deposit from outside Coinbase or withdraws to a non-Coinbase destination address. Learn more.
Risk disclosure
Coinbase warns users could lose their crypto holdings if the company goes bankrupt
Disclosed in the quarterly report ended 31 March 2022, as required by rules enacted by the Securities and Exchange Commission.
"Because custodially held crypto assets may be considered to be the property of a bankruptcy estate, in the event of a bankruptcy, the crypto assets we hold in custody on behalf of our customers could be subject to bankruptcy proceedings and such customers could be treated as our general unsecured creditors," the company said."
It's a different scenario from traditional investments. Many bank accounts, including checking and savings, are insured by the Federal Deposit Insurance Corp. for up to $250,000 per account if the bank goes under, while the Securities Investor Protection Corp. helps if a broker or dealer goes bankrupt.
Social media
Transparency
public, audited financials confirm financial strength and ample liquidity

Coinbase largely holds assets in USD

financial statements are public and released quarterly.
Ecosystem
Coinbase Earn
Coinbase Earn allows eligible customers to learn about different cryptocurrencies via educational content and earn a bit of that crypto. Just by watching a few videos about your favorite crypto and completing a short quiz to test your knowledge, you'll be rewarded with a bit of that specific crypto.
Trading platforms
✔️ Unique Selling Proposition (USP)
FAST bank transfer support
Announced in March 2023, customers in Singapore can FAST transfer funds to and from their Coinbase accounts using any bank in Singapore for free.
Publicly listed company
Being public listed on NASDAQ, Coinbase is a regulated financial institution.
Singpass sign-up support
From March 2023, Singapore users can use Singpass to join the platform.
Usage Notes and Tips
Coinbase only supports buying and not selling for Singapore users, but you shouldn't be overly concerned.
Some definitions first: 'Buy/Sell' in the crypto world refers to using fiat money to purchase crypto assets and selling crypto assets to get fiat money back. 'Swap/Convert' on the other hand, refers to exchanging one crypto currency for another, like some some of barter. It is common to get confused between these terms in the beginning.
For the Singapore market, Coinbase allows "Buy", which means supporting the purchase of crypto assets using credit or debit cards. It does not allow "Sell" which is to sell your crypto assets in exchange for fiat money. See the official support documentation on why this is so.
I feel this is not a big issue as investors can easily transfer crypto assets into Coinbase from other platforms, and perform trading. For example, you can transfer USDC in from another exchange and use it swap for cryptocurrencies available on Coinbase platform.
Received FREE alt coins from completing mini-courses
Coinbase has a feature named 'Learning Rewards' where users can learn about alt coins, answer some simple quiz questions, and receive airdrops.

These are some of the airdrops I received:
Dec 2022
Nov 2022

Near (NEAR): US$3
Chain (XCN): US$3

August 2022

HOPR (HOPR): US$3
Aleph.im (ALEPH): US$3

Jan 2022
Nov 2021
Sep 2021
Jun 2021
May 2021
Apr 2021

FORTH (Ampleforth Governance Token): USD$3

Mar 2021

UMA (Universal Market Access): USD$6
NMR (Numeraire): USD$3

Feb 2021

NU (NuCypher): USD$3
COMP (Compound): USD$9
XLM (Stellar Lumens): USD$10

Jan 2021

GRT (The Graph): USD$3
CGLD (Celo): USD$6